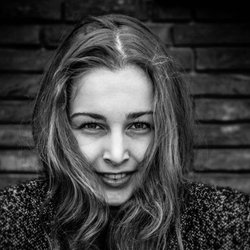 Danique Kos
Danique (1998) plays percussion from her seventh year and got enthusiastic by the girl group Treble. Danique started djembe and played for years in a children's show band. She has had three years teaching at the Conservatory and attended various workshops. Her play and instrumentation developed with congas, bongos, cajon, balafon, shakers etc. and shifted from African to Latin, Jazz and Pop.
Her motto or even better is her motto of life:
"Not a day goes by without music. Playing percussion is my passion and makes me happy. Everything has rhythm! That I can make people happy with my music is what I like".
Since 2011, Danique follows lessons from percussionist Eddie Conard. He has widened and deepened her musically. The dynamism, passion and musicality splashes from her; not only when she performs, but also during rehearsals. Her talents do not go unnoticed which translates into prizes, awards and special performances. For the World Championships of Performing Arts in Hollywood 2013 (WCOPA), a festival in which 53 countries participated, Danique was the first Dutch artist ever in the finals. That Danique also has a talent for acting is evident from the fact that she has won an acting scholarship to the Conservatory for Dramatic Arts in New York during WCOPA. Her talent, skills and charisma have certainly contributed to her ultimate goal is to become a session musician and to work with many great artists.
Making music is what she likes best!
In 2015, Danique was guest soloist during four gigs with the New Manhattan Big Band. After a Public Rehearsal with the NMBB in Café De Noot in Hoogland, was a gig in De Winkel van Sinkel in Utrecht the next, followed by the Preview Amersfoort Jazz gig in de Gentlemen's Society Amicitia in Amersfoort. Highlight in the cooperation with the NMBB was the performance on the main stage of Amersfoort Jazz on June 13, 2015. That resulted in an invitation from the Amersfoort Jazz organisation to play during Amersfoort Jazz 2016 with a band of her choice.