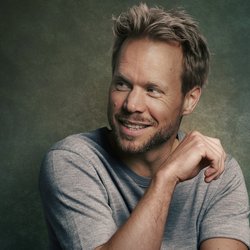 Diggy Dex (Koen Janssen)
Diggy Dex began in 1997 with Hux B under the name 'The Prophets' rapping in Dutch. In 2000, The Amersfoortse established Cooperation (DAC). In 2006, as fourth DAC member, a solo album was released, in 2008 followed by the tweede; Mayonnaise voor de Ziel' with, inter alia "De Meest Exclusieve Jansen", "1,2,3,4", "Ideale Schoonzoon" and "Gescheiden Wegen". In June 2009 he released a single from the Flemish Eva De Roovere "Slaap Lekker" (Fantastig toch). This remix was 15 weeks in the Dutch Top 40, 17 weeks in the Mega Top 50 and the Flemish Ultratop 50. In 2010, he released his third solo album, "Lange Nachten, Korte Dagen".
For NMBB 2012 was the year of the hip hop project with Diggy Dex. "Links, Rechts", "Waar De Zon Ons Heen Brengt", "Dezelfde Spijt" and all aforementioned songs were arranged for big band and thus sufficient for a set of one hour. After a very successful performance at Amersfoort Jazz 2012 performances followed at Haarlem Jazz & More and Rotterdam North.
In 2014, following his fourth album "Do It Yourself" and made the music for the film "Kankerlijers" from director Lodewijk Crijns. Since summer 2015 Diggy Dex weekly raps a column in the program Giel Beelen on Radio3FM. That same year, "Treur Niet" (Ode Aan Het Leven) is released together with JW Roy. This song, his own premature farewell speech, is a total of 17 weeks in the Top 40 and earned platinum. He also collaborated with Ali B the song "Ik Huil Alleen Bij Jou " and appeared in March 2016 and also got platinum. Diggy Dex has written a song in response to the attacks in Brussels, entitled "Morgen Komt Het Goed'. This song was heard for the first time in the morning show of Giel Beelen on Radio3FM.