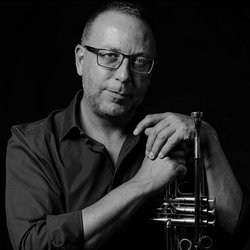 Ernie Hammes
Ernie Hammes (born 1968) is a Luxembourger trumpet virtuoso, arranger, composer, and big band director who is prolific in both jazz and classical idioms. Notably in jazz, Hammes toured with Maynard Ferguson's Big Bop Nouveau band in 2005, alternating between the lead and jazz roles. Hammes has performed in more than twenty-five countries while simultaneously supporting the jazz scene in Luxembourg.
Hammes was born 18 August 1968 Esch-sur-Alzette, Luxembourg. He studied at the Conservatories of Esch-sur-Alzette and Metz and later at the Manhattan School of Music and the Berklee College of Music in Boston. Since 1997, Hammes has performed at Birdland and the Blue Note jazz clubs in New York, he has traveled widely to jazz venues and jazz festivals across Europe and North America. Recent performances have included festivals in Chicago, Calgary, Vancouver, Edmonton, New Orleans, Karlsbad (Czech Republic), and Cleveland, Ohio. Hammes has also played at Ronnie Scott's Jazz Club in London and at the Montreux, Den Haag, and Toronto festivals. The Duke Ellington Orchestra has flourished for over forty-five years since the death of the Duke, himself. As of 2013, Hammes is the only European known to have been a member of the Duke Ellington Orchestra from any era.
In his native Luxembourg, Hammes is the founder (1993), director and lead trumpet in the Luxembourg Jazz Orchestra and, since 1987, has been a member of the Musique militaire grand-ducale (the Luxembourg Army Band) where he is lead trumpet and, since 1994, leader of the big band.
As for classical music, he has played with the BBC National Orchestra of Wales, the Luxembourg Philharmonic Orchestra and the Latvian Philharmonic Chamber Orchestra.