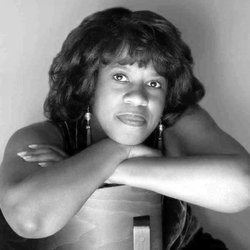 Gail Pettis
From an article by TODD MATTHEWS EARSHOT JAZZ: July 2005.
"Jazz Vocalist Gail Pettis Touches the Essence and Soul of Song"
This conversation took place on 30 May 2005. It is a year befor her performance with the NMBB on the opening night of Amersfoort Jazz 2006. She thinks it is not enough to know how a jazz standard should be sung; Pettis wants more. Each performance enables her to go to the core of the songs, to fathom the emotion of it and to dissect it.
"A good cup of coffee and a conversation about the music I love. My birthday could not have a better start", she said during the interview. She exudes confidence and composure as she tells what she is looking for in music. Emotion is the value of jazz; it is what you give and receive. Most of the songs in her repertoire she chose on sense, others after even hearing them only once. Various songs she chose based on the instrumental version and much later she learned the text ("In The Wee Small Hours " and "The Touch Of Your Lips). When she heard these songs played by Randy Halberstadt Trio she remembered them again.
Four times nominated and recent winner of the Earshot Golden Ear Award "2007 Northwest Vocalist of the Year" Gail is an omen which complements the Pacific Northwest jazz scene. Her rich warm voice and her understated phrasing, tempt to compare her with Nancy Wilson, Sarah Vaughn and Carmen McRae. Cadence Magazine described her voice as "wonderfully soulful".
As a granddaughter of Delta Blues guitarist Arthur Pettis, Gail grew up in Gary, Indiana and now lives in Seattle, WA. In 2002, she makes a career switch from orthodontist to jazz singer.
During the Amersfoort Jazz Festival 2006 she performed as artist-in-residence with, amongst others, the New Manhattan Big Band, Eddie Conard and the Dutch Jazz Cats and on smaller venues in Amersfoort and Harderwijk. In this tour as stop in a Kobe (Japan) was incorporated. There she performed as a guest artist in the KAVC Hall as winner of the Seattle-Kobe Female Jazz Vocalist Audition.
Her debut CD, "May I Come In?" was well received and got international airplay in Germany and Portugal and a nomination for the Earshot's Golden Ear Award "2007 Northwest Recording of the Year". The second CD, "Here In The Moment" (January 2010) debuted at position 9 of the Jazz Week National Airplay Chart and reached position 5 according to Jazz Week (March 1, 2010).
Gail also provided vocal contributions to the Grammy nominated CD, "Colabs". Furthermore, she sang songs in major films, did Voiceover- and jingle-work that could be heard on radio and TV.