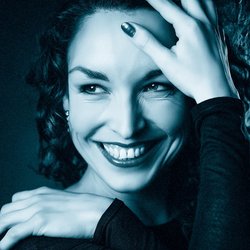 Mirthe Bron
Mirthe is a singer, actress and theatre maker. Her strength lies in versatility. From German spy to daughter of Freddie Mercury and from comedic cabaret chick to dramatic chansonnière. Nothing is too much for her. Master entertainer Sven Ratzke said about her: "Mirthe is a multi-talent to cherish! Energetic, enthusiastic and quirky. She combines in a wonderful way her singing, acting and performance talents. They deserve a place to shine."
From September 2016 Mirthe plays the show Daddy Freddie, a unique theater experience which Mirthe in her role as daughter of Freddie Mercury and she takes the audience by the hand to the oeuvre and the boisterous life of one of the most iconic rock stars of all time. A show full of funny anecdotes, piquant confidences and beautiful songs in English and in Dutch. Assisted by bass clarinettist Coen Kaldeway and percussionist Janco van der Kaaden, she brings a personal musical tribute to Freddie Mercury. The festival edition of this show will be on display at the Broadway festival in Den Hoorn, Texel and was previously a great success at the Sonsbeek theatre in Arnhem and the Valkhof theatre in Nijmegen.
Since 2014 is Mirthe part of Ladies First, a musical cabaret group with Gerrie van der Klei, Mylou Frencken and Anouk van Nes. She replaced Celine Purcell during the Purple Ladies tour, which went so well that originated Ladies First was born. Pop-up shows on topical and unusual themes such as 'Offside' and 'In the mood' `followed. In the spring of 2016 First Ladies toured the country with the show "The point forward," an alternative for non Euro-football enthusiasts. Mirthe writes songs and scenes for Ladies First.
Mirthe was also seen in the performances: "Land of Hope and Glory," "Mata Hari," "Orpheus, return ticket Underworld", "Scrooge", "Songs of Louis Davids ", "Pep talks", "Jules de Corte, who is that?" and "Eva laid down by Night".
She cooperated in several special musical projects like Diggy Dex meets the New Manhattan Big Band in 2012, a Tribute to Edith Piaf and the Gymnastics Gala of Antwerp and Almere. She featured in several commercials and corporate films on television and the Internet, such as the Nutrition Centre and the Consumer and Brand Deli.
Additionally Mirthe wrote scripts for shows as "The Wilhelmus Show" for the Grote Kerk in Breda and "In the middle of the winter night, a Christmas dinner revue" and "Dick" for cultural centre Parnassos in Utrecht. She also brought out a CD with own English work under the name Eva.