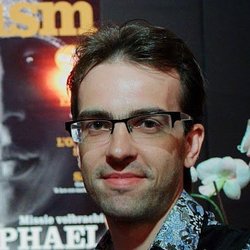 Tjaco Oostdijk
It was in 2006 when we started looking for a vibraphonist. Our regular followers will probably remember that Wim Hoffman, initially on tenor and baritone later regularly played vibraphone at gigs. We knew we were going to miss especially that aspect after his departure.
In that search on the Internet we found Tjaco Oostdijk, born in Goes on January 7, 1981. He have been a year or 7 when he got a drum set from his uncle. From that moment on Tjaco is addicted to the 'drums'. Reason enough to get acquainted with him.
After a few drum lessons from his uncle, he became a member of the local drum band. Shortly afterwards he went to the local music school to learn percussion and drums. After snare drum and timpani he soon switched to the drums. Then he got some xylophone lessons his interest piqued in the vibraphone. Until his 15th he performed on the snare drum and was often asked to play in other drum bands. With his drum band, he has participated in competitions. His musical interests also focused on jazz. He then played in the "Misty Jazz Band" with the young Rik Mol (now Europe's largest talent trumpet) played. At 18 he went to the Conservatory in Amsterdam. So he ended up in the Amsterdam jazz scene. There he played in many bands and he set up a number of projects. In his 3rd year he began his studies on vibraphone. In 2003 he graduated as Bachelor after which he was admitted to the "post-graduate" course. In 2006 he passed his Master's degree. Where, what and with whom he plays, he strives all-round development after and he has also gained a lot of experience with various music styles and many different bands.
Names that can be listed are Do not Explain (vocal jazz), Discover (funk and soul covers), Diggin 'The Groove (Earth, Wind & Fire and Tower of Power covers), Reflections (Motown), Lean On Me (round covers), Saskia Laroo Band, New Generation Big Band, Eric van de Kerkhof (fusion). He also set up vibraphone projects and participated in the Modern Jazz Quartet tribute band, Vocal Vibes, The Vibe, Sax & Vibes and Dave Saha Naja. The focus is primarily on jazz and fusion. In 2009, he focuses on theater shows like Xynix Opera based on classic operas, fairy tales or myths which specially focuses on youth and education. Late May, early June 2010 he starred in the opera Bluebeard Xyinx in the Veerensmederij in the area of the Amersfoort railway station.
Furthermore Tjaco teaches two days a week drumming lessons at the music school in Haarlem and Heemstede and besides that, in 2008 he is actively involved in the creation of the first and only online vibraphone school in the world with lessons and advice ' the world's finest vibraphone players such as Gary Burton, Joe Locke, David Friedman, Tony Miceli, Ed Saindon, John Piper with some 1,300 members worldwide.